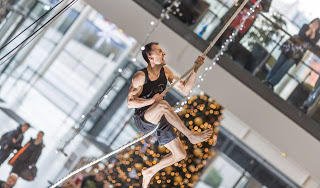 Today is the day to release the next Interview on www.trainingnomaden.de
I am really happy that "Štěpán Muchka" took the time to answer my questions. I am sure you have never heard about him but this will change quickly. He is actually the fastest ropeclimber of the ongoing competition season.
If you tried ropeclimbing you know it is a great exercise for whole body conditioning. It is plain simple and hard as hell.
These man from czech republic saved a historical disciplin from extinction. Did you know ropeclimbing was part of the olympics from 1896-1932? Did you know its history goes back even further to the ancient greeks over 2000 years ago?
Today it is becoming more and more popular through crossfit, climbing gyms or hardworking coaches like Ross Enamait (Make sure to check out his products) and people like YOU who are interested in the topic.
Prepare for a great interview and some information how a champion of sport trains and which advice he has for beginners.
Who are you, what are you doing, what sport do you do, when do you started?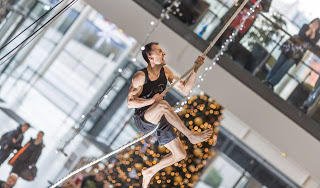 My name is Štěpán Muchka and I live in Mladá Boleslav. I am 35 years old. I´m interested in IT and run a business of healthy lifestyle. Actively, I´ve started to do sports, when I was 12 years old; martial arts (Judo, Karate, Jiu Jitsu), training in a gym, massages – shiatsu. I´ve started to rope climbing, when I was 22 years old, in 2003 
Štěpán can be seen here during a personal record climb on the 8 m rope!


Please give us a short history lesson about rope climbing competitions in your country:
The rope climbing returned back to Czech republic with celebration of 130 years of union Sokol Příbram.[A czech sport club] That was in 1992. They wanted find main point for this celebration at that time. [The competition is in honor of] Bedřicha Šupčíka he competed at the 1924 Summer Olympics in Paris, where he received a gold medal in rope climbing. His time was on 8m rope 7,20s.  The competition in rope climbing have held regularly since 1993. The idea of this sport is spreading rapidly to next unions of Sokol and new competitions of rope climbing are creating.
How did the Sport survive?
Climbs thanks to active member base and honest work organizers and mass media support. The member base and the popularity of the sport grow.
How many competitions per year? 
Approximately, there are 9 nomination competitions and finish of season December republic champion. In all 10 main competitions.  
How many people participate?
I´d say at least 30 people, but almost 60 people. (men, women, seniors, youths)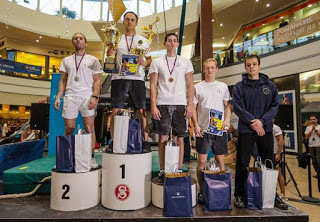 Are there active women?
Yes, there are a few. Their count is till 10. 
How does a competition work?
The system of competitions is simple. At the national champion, the person who will participate one of about 9 competitions with time below 12 seconds to 8 metres and 4.5 metres below 7 seconds.
Legs don´t have to push off from the ground = bottom in the air, feet on the ground = invalid start
The starting is at 3 audible signal (3times beep). The contestant don´t have to let go of the control button before the sounding of the third beep = false start
Climbs from behind without using legs.  

How does a typicall session/training week look like?
The workout is 2x or 3x weekly (The best is 3x weekly). We train in the Sokol movement. Our workout: We start with warm-up entire body, main hands, we make a few run circles around, throwing with medicine ball; stretch at horizontal bar.
Workout on the rope: There is 11m long rope in our gym. During workout we climb to  9-10m hight 6-10x  for workout (6-10 series). Time for workout is 1-2 hours. Between series we add in exercise for the legs e.g. squats, Dumbbell Rear Lunge. The pause between climbing is about 5 – 10 minutes, then the muscles are ready (It is important, muscle must be ready).[Fully Recovered]
July – August – The season for relaxing and maintenance workout – only 4x series without weight for workout.[Deload]
September – we starts active season, we prepare for the Republic Championship (in December)
I change workout, I climb 8-10x for workout, 2x without weight, 2x – 4x with weight – chain or different weight, 2x climb juggle with weight (1kg ball).  

Every day home-workout only start on rope.
June – There are two competition this month. We climb on 14m and 20m rope. I climb long rope 11m or, double 8m and so on. I start prepare for this competition from May. Every workout I finish one arm pull-ups on rope or on rings. Important things for me is, I listening to my intuition during workout, no stress or press on myself.   

Your favorite exercises to stay injury free?
The exercises of yoga and breathing exercises. The breathing exercises help to faster regeneration. I do not do through the pain of muscles ….
Your advice for a beginner in your sport?
Beginnings are difficult and you must hold on. With time your body gets stronger, Technology improves and movement starts to be more meaningful. And focus only on the end of ropes. [There will be great exercise later]

Your biggest mistake concerning exercising?
It takes much longer than I remember that is the mistake. I mean that big mistake has been exercising for a log time without changing hands by start. I have exercised for a log time only one hand and this led to small problem with muscles on one side of body.

What are the records for the different lengths?4,5m – 3,06s (from 19year)
8m – 4,87s (19 +)
10m – 8,69s (19 +)
14m – 14,03s (19 +)
20m – 25,85s (19 +)

How do you warm up and prepare your joints?
The preparation takes about 15-20 minutes. We use exercise balls medicine ball for throwing. Hanging on rings, trapeze. Nothing especial. 
Are you doing special exercises to stay healthy/to improve your climbing?
Ideally situation: every day exercises of yoga, breathing exercises – it is health for common life, prevention. I train to improve common life, that makes stronger sports aktivity. During training, I train on the rope-climbing, out of training for health.
How to get started with ropeclimbing? Especially when you can not climb a rope without legs!
Trying to practise with their own weight. To hang as long as possible just so, every day, All with own weight, if the own weight is too much. You should cope with it, use auxiliary gums or machines in gyms. The best are the exercises on rings and trapeze also exercises for back, belly and arms. Mainly the rope, swinging, holding on because hands must be wear out.
Do you use different diameters?
Averages are according to rules from 28-32mm. Deliberately I don´t have an experience f.e. climbing on 25 or 38, we don´t have the ropes, it would certainly worth a try. 
Which diameter is best to get started?
Personally I prefer climbing on stronger, I´d keep those 28-32mm.

Do you often use additional weight  like in the video?

We use as weight a chain of 10m=1m=2 kilograms, i.e. 20 kilograms of load. We combine the load very variously.. There is an exhibition and a load of 20 kilograms. Almost every work out I put [on additional weight]

Are you doing other special exercises like the one we have seen in the video? the Video?
I´d call it a game training, You should be interested in sport. That´s a climbing with one kilogram stress ball, which are very good for the shoulder muscles. It increases your strength and endurance and total coordination.
We still have one technique, without looking. It´s important to hide your eyes, not enough to keep eyes closed. That´s tried out of children and other people who tried to climb. It blocks the fear and your body let you continue, I call it overclocking. Both enriches time with spending on a rope. 
Do you avoid one armed negatives?
If you think one-handed pull-ups  so I do it after every training (one-handed pull-ups on a rope)
I do one arm pullups at the end of workout and I do on rope not on bar. I think that 3x
. I know that I do one arm pullups with 8kg weight 1x – left and right arm.


How many meter do you climb per session/week?
According to phase of preparation, so from 30-90 metres for a training and 60-300 metres for a week.
Do you follow special periodisation like 6 weeks focusing on speed/ muscle growth etc?
Nothing to following, maybe it´ll be a mistake, I train to be happy. 
[Additional information about periodisation are already said above]
What are typical injurys?
Typical injuries are burns of fingers and hands, when person goes down the rope. Small abrasions on fingers, calluses. There was one broken arm (arm twists and the bone breaks) and one fracture of the foot (poorly secured a rope that is ruptured = free falling of about 4 metres (that was me)


I read that there is a special story about the 20 m rope? It is rare to see athletes finish it? tell us the history?
Rope climbing is practiced regularly at the World Police and Fire Games, and is enjoying a resurgence in France, where competition is held in shopping centre.
In 2007 we participated this competition. The competition was running three days. Firs day we were climbing on 8m and 10m, second day on 15m and last day on 20m. We met with 20m high first in history of rope climb. The high was for all of us very good experience. We have started exhibition competition on this long rope. Last competition was this year on June. We have perhaps only 5 people who climbed this high. My time from last competition is 34s.

What is your vision for the sport?
I believe the ropeclimbing becomes one of the pillars of many sports and there is a world expansion and returns to the Olympics. 


If you don't know where to start: Check out this detailed video on  assisted ropeclimbing i got from beastskills.com

Is Ropeclimbing becoming more popular through crossfit?
Everyone who has tried it, confirm it iis a challenge. Where the discipline is included, and I think that is the hardest part. The marathoner´s come to my squad, 4-boyars, parkour, gymnastics, swimming, javelin thrower, unorganized, but unfornately nobody at Crossfit over here. 
Which books/films/program/stuff can you recommend?
The very nice book is "Way of the Peaceful Warrior" by Dan Milman, It´s a film too.. All the books by Dan Milman and film Zen (2009)
Two metres are enough at block on ceilings for rope a few yards crumb hands, squeezing rollers (gum), magnesium for hands, gymnastic gums, a chain of progressive load, stress balls.
Which kind of nutritionstrategy do you follow?Which supplements do you use?
I use as supplement very little, only coffee before start competition and energy drink during. My favourite focus is on food and work with mind and breath. I´m seeking to reduce acidity of my body and eat only food which harmonize my body. I do not eat carbs and protein together. A combination of these substances is not good for our body. I like drinking green barley and chlorella, these is good food for our body, nourish and cleaning our body. Next fruits and vegetables, of course. A little meat, only 1 or 2 times of week. I´m slowly moving to ayurvedic principles. 
What are you doing for fun? What are you doing to compensate the demands of your sport? 
I often go running, alternatively some work out exercises and reading books. Studying, It is short time, I have started with calligraphy art it is good for clear mind.


If you have read our free Nutrition Manual…what do you think about it?
I haven´t read it, but I´m gonna read it. Generally I obey no charts, nature don´t obey too. Fresh food, fresh water and continency, that´s the base. 
Download the german Ebook for free:
http://naturathletenschmiede.net/nutrition-manual/
Any last words?Sponsors? Your Internetpage/Social media?
Live consciously and do everything as best you can. Love yourself.

Sponsors: myself
Youtube: https://www.youtube.com/channel/UCc2FMVKDV-uhb0jccJWsuvQ
Want more information about rope climbing?
Svetsplhu
https://www.facebook.com/svetsplhu.cz
John Gill

http://www128.pair.com/r3d4k7/Competitive_Rope_Climbing1.html
Looking for a challenge? try out one of these 10 ways to climb a rope:

Thanks alot for the Interview!


Feel free to post any aditional questions into the comment section!
Support the project:

Make sure to check out the company ORGAINIC for the finest quality german organic whey protein with the best price on the market.

Safe 10% with Code "FarmerKarl" or "Nutritionmanual10"


or the products from Rosstraining.com

ALL PICTURES BELONG TO Štěpán Muchka!